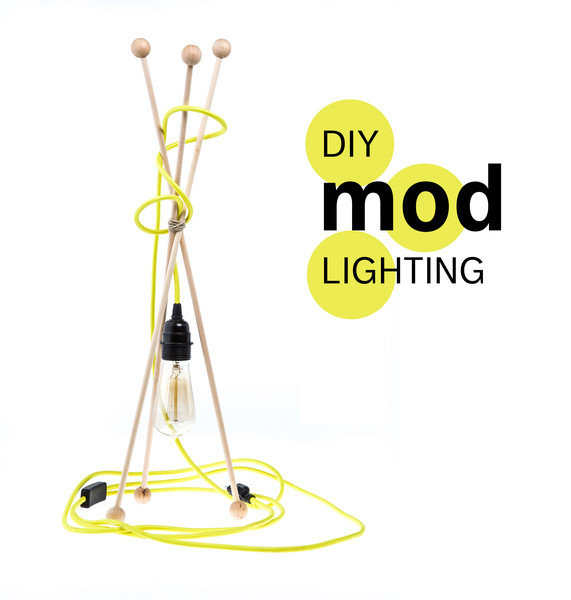 he cold Colorado winter that has enveloped Color Cord HQ has left us dreaming of warmer pastures. This week we dream of laying out poolside in Palm Springs, soaking up some rays and mid-century modern design. With mod in mind, we came up with this simple and elegant DIY lamp.
Using only wooden dowels, some string and decorative wood beads, this modest and modern lamp was created. Purchasing our supplies from the local craft store proved to be the most time consuming part of this lamp. For once all of the components have been gathered, it is as simple as bundling three dowels of an even desired length, a Color Cord pendant light cord, and securing them all together with your chosen string material. For our smaller table lamp we used ¼ inch wooden dowels at 24 inches long, natural twine, and decorative wood beads, to complete the mid-century modern look.
For a more rustic take on this tri-pod lamp, we went bigger and created a floor lamp. We used ½ inch wooden dowels in four-foot lengths and suede cord paired with decorative mint and magenta string for securing the bundle. Decorative wood beads were used as feet and to provide more stability. We found that little rubber grips on the feet help secure the lamp in place. To fully complete this rustic look, we paired our simple lamp with a reclaimed teak farmhouse bench and vintage Turkish wool rugcourtesy of World Effect.